Relieve Numb Foot Pain And Swollen Legs In Just 15 Minutes A Day, Whether It's Due To Neuropathy Or Plantar Fasciitis.
If you're experiencing numbing and stabbing foot pain, it's likely controlling your daily routine. This can lead to more severe issues such as chronic foot pain, dependency on painkillers, surgery, and immobility.
The Soothenix EMS Foot Massager uses Electrical Muscle Stimulation (EMS) to reverse pain and restore your foot's health in only 15 minutes a day.
Instant relief even from chronic foot pain (no harsh pain killers)

Relieves muscle spasms and muscle pain

Your own in-home podiatrists (money back in your pocket)

Improves blood circulation, relieves swelling & inflammation
A Revolutionary Finding
You've likely tried numerous foot pain products that promise relief, yet fail to deliver. But it's not your fault – many of these products only mask the pain, without addressing the underlying cause. This can lead to the problem worsening over time.
After investing $178,000 in laboratory testing and two years of prototyping, we've discovered a breakthrough combination that targets all three elements of foot pain:
Scientifically-backed electrical stimulation that promotes blood circulation.

Laboratory-proven frequencies that alleviate swelling instantly.

Relief for your foot pain pathways.
This powerful formula provides instant relief from chronic foot and leg pain.
Put An End To Swollen Calves and Ankles
This cutting-edge EMS technology resets and relaxes the muscles in the affected area of your body, while also relieving strained and stressed nerves through targeted electrical impulses, allowing for healing and recovery.
This technology:
You'll experience instant relief from chronic pain, swelling, and discomfort with this device, which is 83% more effective than the leading competitor.
Consistent use of this product allows pain pathways to fully recover, resulting in long-lasting relief for chronic foot pain.
Effective Against ALL Types of Foot and Leg Pain!
The Soothenix EMS Foot Massager combines focused massage and vibration in a unique way to effectively alleviate and prevent all types of foot and leg pain.
FDA-Cleared Class II Medical Device
Increase blood flow in the affected area, which activates the body's self-healing mechanis
Nerve Damage Reversing
Constant pain can cause muscles to become stressed and inflamed, resulting in nerve damage and impaired healing ability. However, using the Soothenix EMS Foot Massager addresses the root cause of pain by stimulating and rehabilitating the nerves and muscles. This promotes recovery and can even reverse significant muscle and nerve damage, leading to long-term relief from pain and soreness.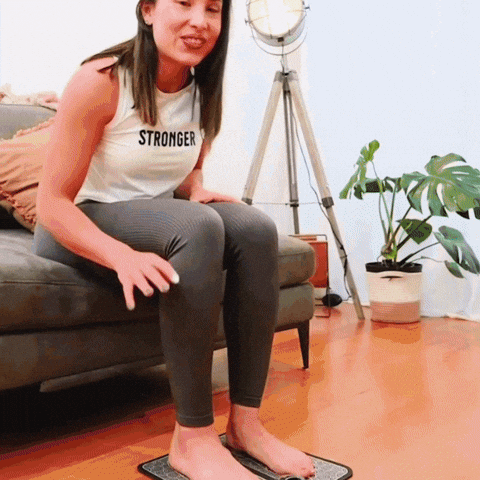 Experience the perfect therapy every time.
The Soothenix EMS Foot Massager has 8 modes and 19 intensity levels.
The EMS technology guarantee penetration deep into the tissue of your feet giving you an instant feeling of bliss and relief as soon as you place your painful feet on the pad.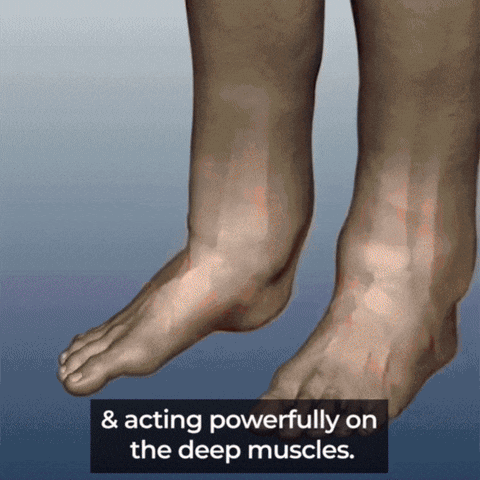 Professionally Designed & Recommended
Podiatrists and massage therapists may not always be easily accessible or affordable.
That's why the Soothenix EMS Foot Massager was designed by a leading podiatrist as an effective and affordable alternative for pain relief. With this product, you can achieve long-lasting results for less than 1/5 the cost of a single therapist treatment.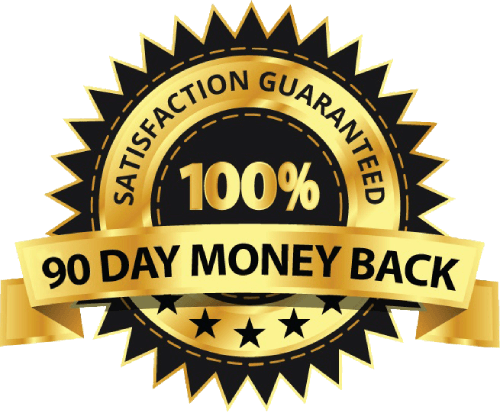 Try it RISK-FREE for 90 days. If you don't get the desired results in as fast as 30 days or less – we don't want your money! Our 90-Day Money Back Guarantee policy will make it right for you. Just contact our customer support team via e-mail at admin@soothenix.com, and ask for a full refund.
Buying items online can be a daunting task, so we want you to be aware of the absolute ZERO risks in buying something from us and trying it out. If you don't like it, no hard feelings, we'll make it right.
We have 24/7/365 Online Email Support. Please contact us if you need any assistance.

Disclaimer: Be aware that several companies produce products similar to our Soothenix massagers, and our products may appear on other websites, potentially causing confusion or deception.
Purchasing from other websites is at the customer's risk, as we cannot guarantee quality, authenticity, or after-sales service. Other massagers may look similar but may have different specifications, putting customers at further risk.